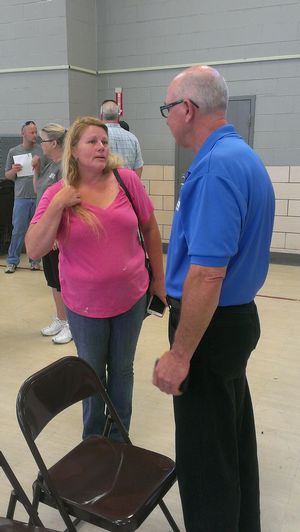 Lisa speaks to Steve Wimsatt about starting a new committee.
Lisa Bennett was born near Franklin PA. Her hometown was built upon unions and the hardworking members that belonged to them. Some of the unions in her area included teamsters, IBEW, Oil workers, nurses, chemical and steel manufacturers. It was an industrialized town where, most folks were very pro-union and united. Lisa's family was no exception as her father worked on diesel engines for the Teamsters Local, and her Mother belonged to the Nurse's Local.
Lisa quickly found out the importance of keeping jobs on shore as she witnessed many of the local companies moving operations to China, Mexico, etc. in the 70's. As unemployment reached near 50% Lisa observed many pride filled union families struggling to pay bills and even provide food for their families. Lisa's family was extremely lucky to not be affected by layoffs and therefore provided help to some of local food pantries available to assist these families in need. Many times these pantries were left unlocked to help those who were ashamed feel more at ease when obtaining the food.
Lisa moved to Louisville around 7 years ago because of the opportunity for employment in the area and her daughter's love of race horses. After moving here, Lisa got a great job in a management position for a Southern Indiana company whose hourly employees were union. When her company sold out she watched as the upper management began to eliminate several benefits from the members of non-union management, but those folks who were union members still enjoyed all of their benefits.
When Lisa witnessed the turmoil at her employer, she decided that it was time to go back to her roots and find a good union job again. Coincidentally, GE Appliance Park was hiring union employees and Lisa quickly applied. As a proud member of her union, Lisa immediately become an active member by attending monthly meetings and most recently starting a new committee. The mission of the committee, which she chairs, is to bring strength and added value of our membership through education, resources, and knowledge. It also educates members of where to buy union made products and to share the resources available to the members of Local 83761.
Lisa works second shift in AP-5 in repair. Lisa and her husband Steve have two children Steffanie(23) and Zach (19) and a new addition to her family, her 5 month old Granddaughter Daisy! If you are over in AP-5 by repair, or at the next membership meeting, say hi to Lisa and thank her for being an active member of our union.